What is a Dental Implant?
A dental implant is an artificial tooth root that supports a replacement tooth. Together, the surgically placed implant and tooth replacement function and appear like your original tooth.
Our patients can receive dental implants from our dentists at Peterborough Dental Clinic.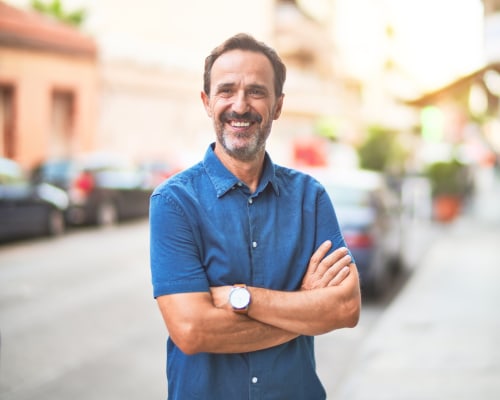 The Implant Procedure
A dental implant is made up of two pieces. A titanium rod is placed surgically in your jaw to take the place of a tooth root. An abutment screws onto the rod. 
Your dentist will typically need two appointments to complete this procedure. 
During your first visit, the titanium rod will be placed under the gum tissue, into your jaw bone. Your dentist will then stitch up the gum tissue and the implant will start to bond with the jaw bone and attach to your gum as healing takes place. 
At your second appointment, the abutment will be attached to the rod. After the abutment is placed, a tooth replacement will be affixed to the abutment, leaving you with a fully functional and natural-looking tooth.
Benefits of Dental Implants
Replacing missing teeth is one of the best and most essential things you can do for your oral health. If this is not done, surrounding teeth may begin to shift in an effort to fill the empty space, which can lead to more serious dental health issues. 
If you are missing one or more teeth, your dentist may recommend dental implants, which can address several oral health issues, including:
Restoring or enhancing facial tissues
Support a dental crown, dental bridge or dentures
Prevent the shifting of surrounding teeth
Reducing jaw joint or bite issues
Help with chewing, speech, and digestion