What is Teeth Whitening?
Our dentists use peroxide-based bleaching agents to help restore dull, discoloured, or stained teeth. The colour of your natural tooth enamel can also be lightened. 
At Peterborough Dental Clinic, we offer both in-office and take-home teeth whitening treatments to our patients.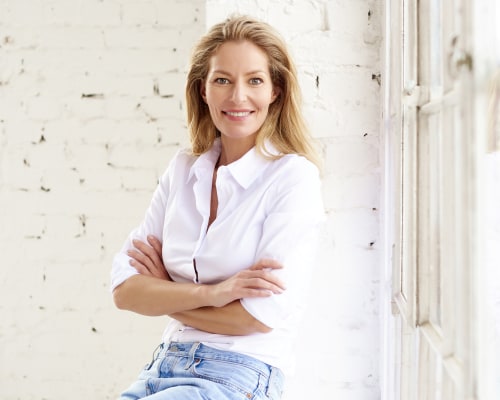 Is teeth whitening for me?
The colour of our teeth can darken as we age due to certain lifestyle choices such as smoking or consuming certain foods and beverages, such as coffee or tea. These can stain the surface of our teeth, darkening their appearance. 
If you are dissatisfied with the colour of your teeth and would like to brighten them, teeth whitening may be an excellent option for you. Although teeth whitening won't entirely restore the colour of your teeth to the pristine white they were before being stained, it may help to lighten the shade.
Options for Teeth Whitening in Peterborough
Teeth whitening is a normally safe and effective option for improving the aesthetics of your smile. This procedure can be done at our office or you can use a take-home kit to use in the comfort and convenience of your home. Your dentist can recommend the best option for you.
In-Office Treatment

Professional bleaching treatments completed at our dental office can help to whiten your teeth comfortably and safely. 

First, an impression of your teeth will be taken to make a customized mouth guard for your treatment. 

Once the mouth guard is ready, a protective shield is placed over your gums to prevent the whitening solution from coming into contact with them.

The product will then be applied to your teeth using the tray.

Take-Home Treatment

Another safe option for whitening your natural teeth is take-home treatment. 

These at-home kits help you achieve a brighter smile in the comfort of your home.