At Peterborough Dental Clinic, we use dental technology, including digital x-rays and dental lasers, to provide dental care.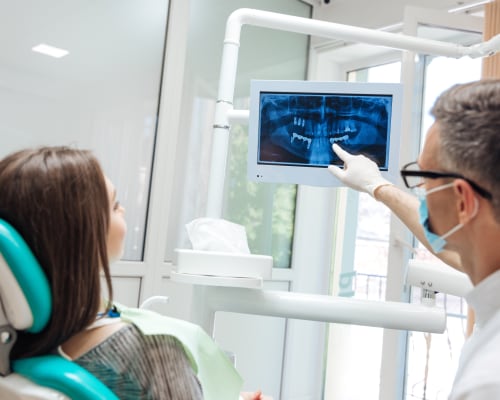 Digital X-Rays
Digital x-rays are a critical part of your ongoing preventive dental care.
Sensors are used in digital x-ray imaging to produce detailed computerized images of your gums, teeth, and oral structures. 
Dentists take x-rays to examine areas of your jaw and teeth that cannot be seen with the naked eye.
This allows them to identify emerging issues and treat them before they become more severe.
Patient Education 
At Peterborough Dental Clinic, our dental technology helps us keep patients informed about their oral health. We can show you any emerging issues with your mouth by displaying digital x-rays on the monitors placed in our treatment rooms, and walk you through your customized treatment plan.
Dental Lasers
In dentistry, our goal is to perform dental procedures with less pain and fewer medical interventions for patients.
Lasers are extremely focused light beams that allow your dentist to complete a variety of soft and hard tissue procedures. 
Our dentists at Peterborough Dental Clinic operate lasers to whiten teeth, reshape gums, harden dental restorations quickly, or remove decayed or overgrown tissue.